Absolute RC Heli Sim
3.49
Helicopter Simulator – Learn to Fly RC Helicopter Models
Do you like RC helicopter models? Are you planning on buying one? If yes, then this helicopter simulator can help you in learning how to operate its controls. Absolute RC Heli Sim is a fun game in which you get to fly various models of RC helicopters and learn to control them during flight. It provides you with various RC models of helicopters and other vehicles. You can test out your flying skills on them and get yourself ready to fly the actual model. The controls provided to you in this simulator are almost the same as actual RC models. So, you can familiarize yourself with the controls and how to manage them. Since this simulator offers various models, you can easily find the one that you are intending to buy.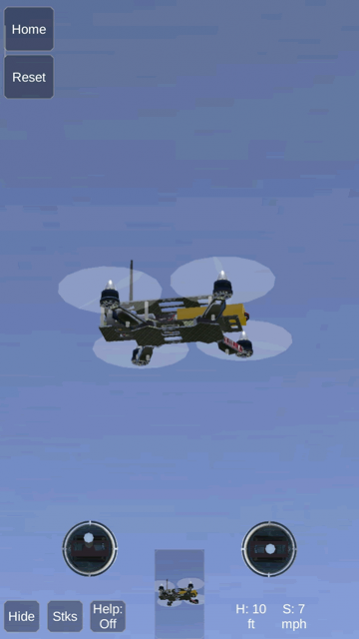 Absolute RC Heli Sim has engaging gameplay that keeps you entertained all the way through. The realistic graphics make this simulator appear real and this adds to the fun. You will find multiple sets of controls for flying your favorite RC helicopter model. These controls are very similar to the actual controls you will find on the actual RC model's remote. You have two control sticks on the left and right-hand side of the screen. One of them is used for throttling up or down while the other one is for steering the helicopter. You will have to pilot the helicopter carefully, though. If you don't keep it within your sights, it will quickly go too far away from you or crash very quickly.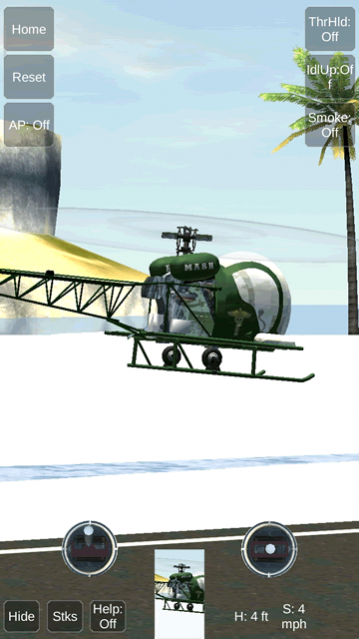 This helicopter simulator provides you a variety of fields to fly your RC helicopter in. You can choose the field of your choice from the menu available on the home screen. Each field available to you presents you with a different challenge. For instance, in the grassy field, you can encounter wind and rain and it would be very easy to lose sight of the helicopter if you let it get away too far from you. Likewise, in the desert field, there is a high chance for the helicopter to crash into the sea that is nearby if you lose control of its flight. You are offered various camera angles in this game to keep track of the flight of the RC helicopter model.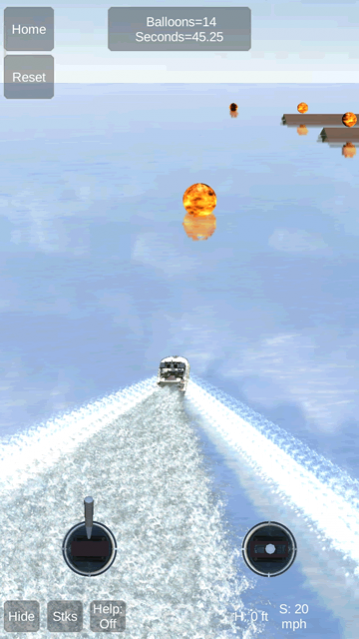 Absolute RC Heli Sim doesn't just let you fly RC helicopter models. You are also provided a nice collection of RC planes that you can fly in any of the different fields on offer. The controls for the planes are similar to that of the helicopters. So, if you have mastered the helicopter models then you would have no difficulty in flying the RC plane models. In addition to the planes, there are car and boat models available for you to drive too. The boat models even offer you challenges that you need to complete. These challenges include having to burst the balloons that have been placed on the water. The controls for the car and boat models are again very similar to that of the helicopter and plane models.
Features:
Lots of models of RC helicopters to fly
Fly the models in a variety of fields
Multiple camera angles to view the RC helicopter
Easy-to-understand controls
Different sets of controls to try out
Various models of RC planes available
Option to drive car and boat models
Complete challenges with boats
Fly the models in the rain and windy conditions
Conclusion:
Absolute RC Heli Sim is a gaming app that is designed for people who like flying RC models of planes and helicopters. It provides them the opportunity to test out their piloting skills before getting to actually fly an RC helicopter. It is an excellent helicopter simulator and you should give it a try before flying your RC helicopter outside.
---
Add a review
Tell us your experience with
Absolute RC Heli Sim
3.49
RELATED PROGRAMS
Our Recommendations
---
---
---
---